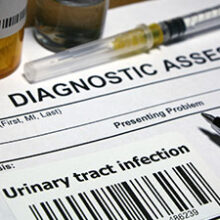 Do you need an online consultation for UTI? The experts at GetCareMD are here to help.
Find out more about the condition and how we can treat it:
A UTI is an infection in your urinary system, which includes:
Kidneys
Ureters
Urinary bladder
Urethra
While a UTI may affect any of these organs, most infections are limited to the bladder and urethra.
Women are far more susceptible to UTIs than men.
If you have milder symptoms, consider setting up a UTI consultation online without delay.
However, if you have preexisting conditions or severe symptoms, seek in-person emergency treatment from your nearest hospital.
Symptoms of UTI
Generally, symptoms of UTIs include:
A constant need to urinate
Pain, discomfort, or a burning sensation while urinating
Urine that has a cloudy, opaque appearance
Urine that's tinged with red or bright pink colors, indicating the presence of blood
Urine that has an abnormal or unusually strong smell
Pelvic pain and discomfort
If you've caught one or more of these symptoms, you should schedule an online consultation for UTI right away.